Based on our broad construction experience, we specialize in highly difficult piping work such as plumbing for pharmaceutical, food factories, and dust-free construction in special clean rooms.
Piping Construction Fields and Technologies
Plant Piping

○ Design and Construction ○ SGP Piping ○ SUS Piping ○ Resin Piping ○ Copper Piping ○ Sanitary Piping ○ Pneumatic Piping ○ Solvent Piping ○ Penetration Bead ○ Fluorine lined piping ○ GL Piping ○ Abrasive Piping ○ EP and Passivation Piping ○ Small Diameter Tube Welding Piping
Air Piping

○ Design and Construction ○ Leak Repair ○ Pressure Reducing Valve Replacement ○ Filter Installation ○ Auto Drain Installation ○ Dryer Installation ○ Cylinder Replacement ○ Instrumentation ○ Blow Efficiency ○ Nitrogen ○ Oxygen ○ Carbon Gas
Steam Piping

○ Design and Construction ○ Leak Repair ○ Valve Replacement ○ Pressure Reducing Valve Replacement ○ Trap Replacement ○ Thermal Insulation ○ Steam Header Production ○ Steam Hammer Prevention ○ Cans and Legal Inspection ○ Energy Saving of Trap ○ Maintenance of Safety Valve ○ Recovery of Waste Hot Water ○ Collection of Drainage
Water Supply and Drainage Pipe

○ Design and Construction ○ Pump Repair ○ Drainage Clogging/Leakage Repair ○ Endoscope Camera Inspection ○ Panel Tank Installation ○ Water Pipe Cleaning
We are able to provide a full range of services from design to installation, even for special piping work.
General utility piping

for water, steam, air, etc.

Gas piping
for clean nitrogen and other gases in laboratories
Piping of polishing, electrolysis, and Oil-free specifications

such as SUS304, 316L for chemical liquids, etc.

Resin piping

such as PVC and polyethylene

Chemical piping

requiring validation 【Piping with automatic welding machine】
Electrical Work for Exposed Piping in Factory
Bus Duct Work
Electrical Work in Clean Room
Sanitary Piping Work with GMP Compliance
Production of Documents for Government Offices
Stainless Piping Work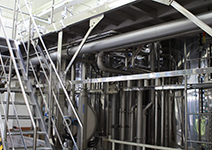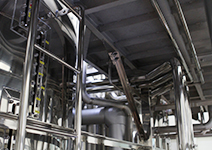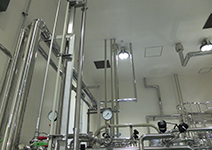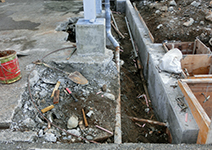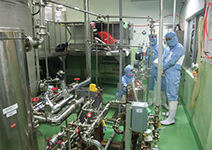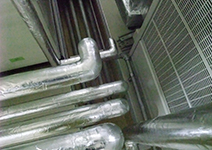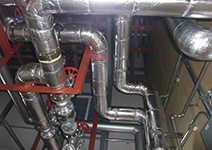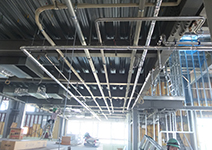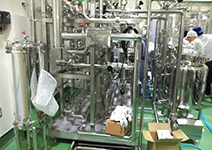 Piping Design and Planning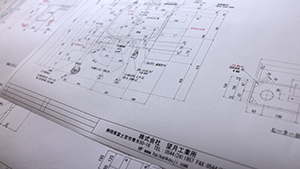 Our unique piping technology and many years of experience enable us to design and plan your facility in the best possible way.
Our contractors have a comprehensive understanding of all aspects of production facilities. Please consider us for new construction starts throughout Japan and even overseas.
Piping Construction at Mochizuki Kogyosho
Special Piping
We specialize in special piping construction that requires advanced construction techniques, such as sanitary piping, work in cleanrooms, and work in explosion-proof facilities, and we have earned the trust of our customers.
GMP, CGMP Support
We build, construct, and maintain international pharmaceutical, pharmaceutical, and food production plants in compliance with GMP and CGMP requirements in the US FDA, EU, and other countries. We provide highly reliable management of our clients' production facilities in accordance with global standards.
Facilities Validation
We understand the significance of validation imposed on production plants, and can assist not only with accurate construction, but also with efficient validation work at plant facilities through regular measurement, maintenance, and management records.
Surface Treatment Support for Manufacturing Facilities
We also provide manufacturing equipment fabrication and processing, as well as surface treatments such as stainless steel electropolishing (EP) and passivation (PASIVATE).
Maintenance
Inspection, Regular Maintenance, Validation Troubleshooting and Repair
We are available for inspection, maintenance, servicing and validation of piping facilities.
We are also available to respond to troubleshooting and repair requests.
・Energy/Source Saving Equipment
・Spot Air Conditioning
・Local exhaust/environmental improvement work
・Equipment maintenance/CFC recovery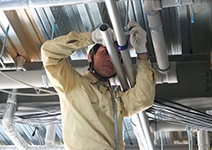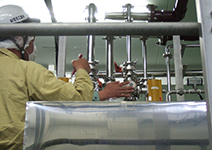 Example of Piping Installation

Click here for our track record of piping construction for factories, plants, sanitary piping, cleanrooms, etc.
---
Our Field of Expertise